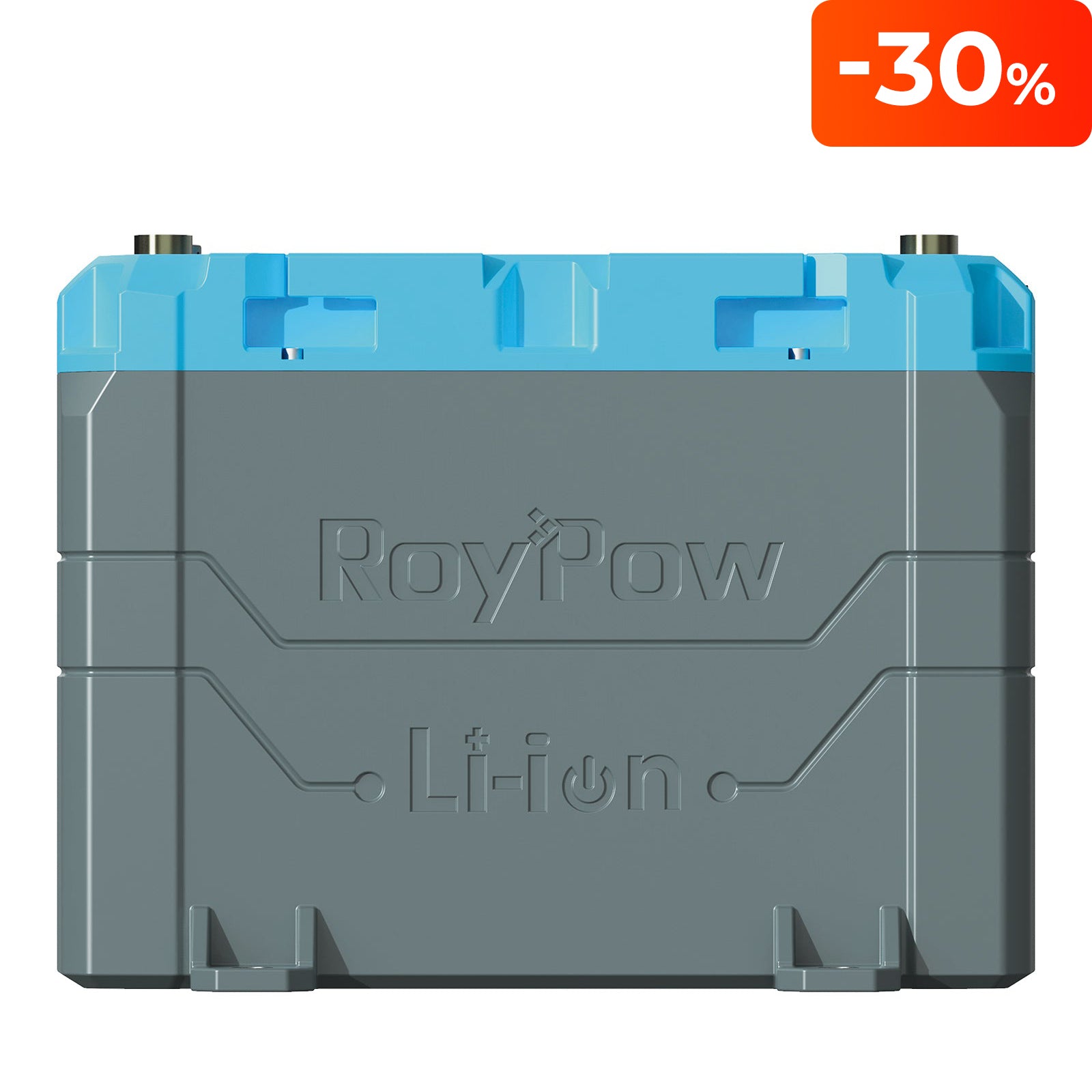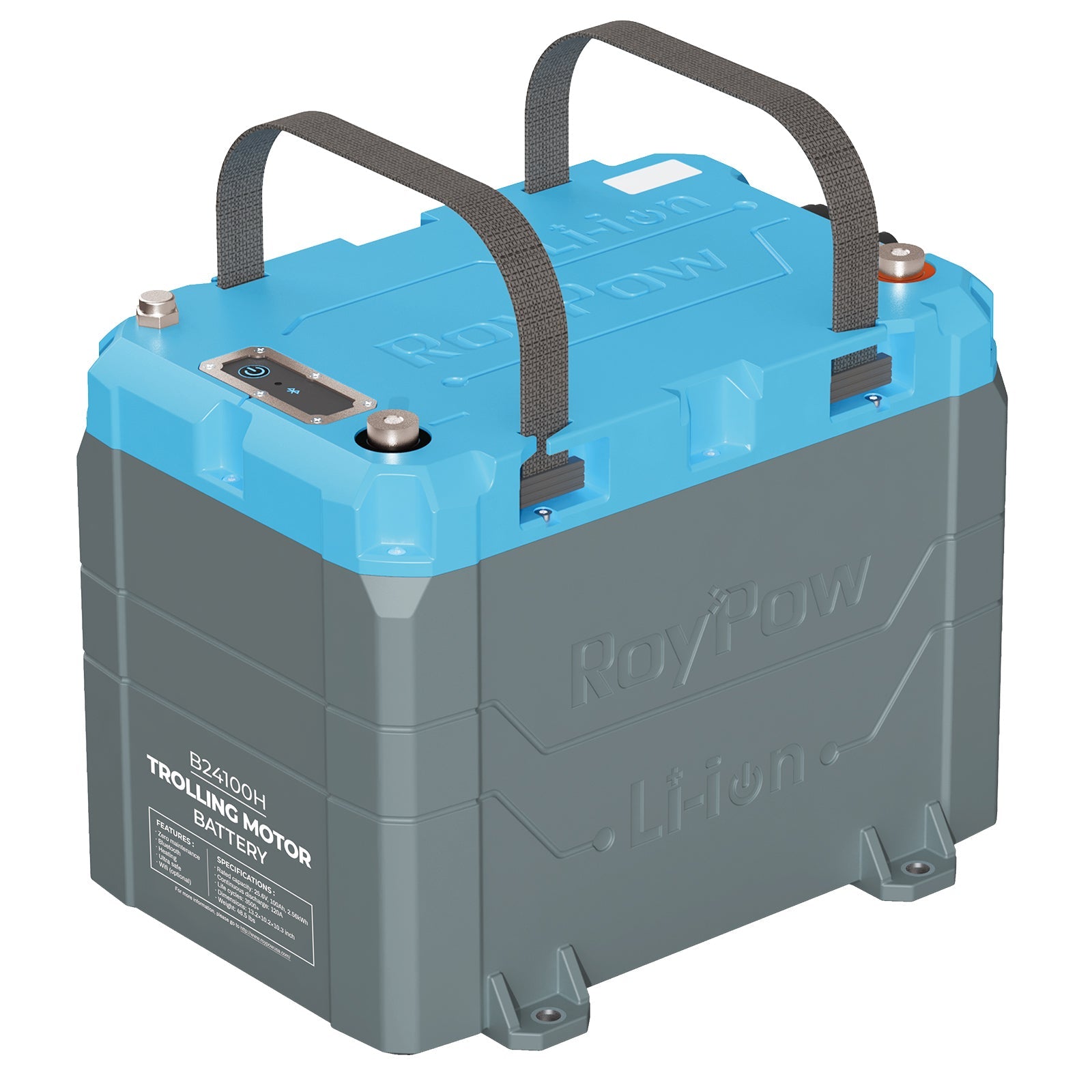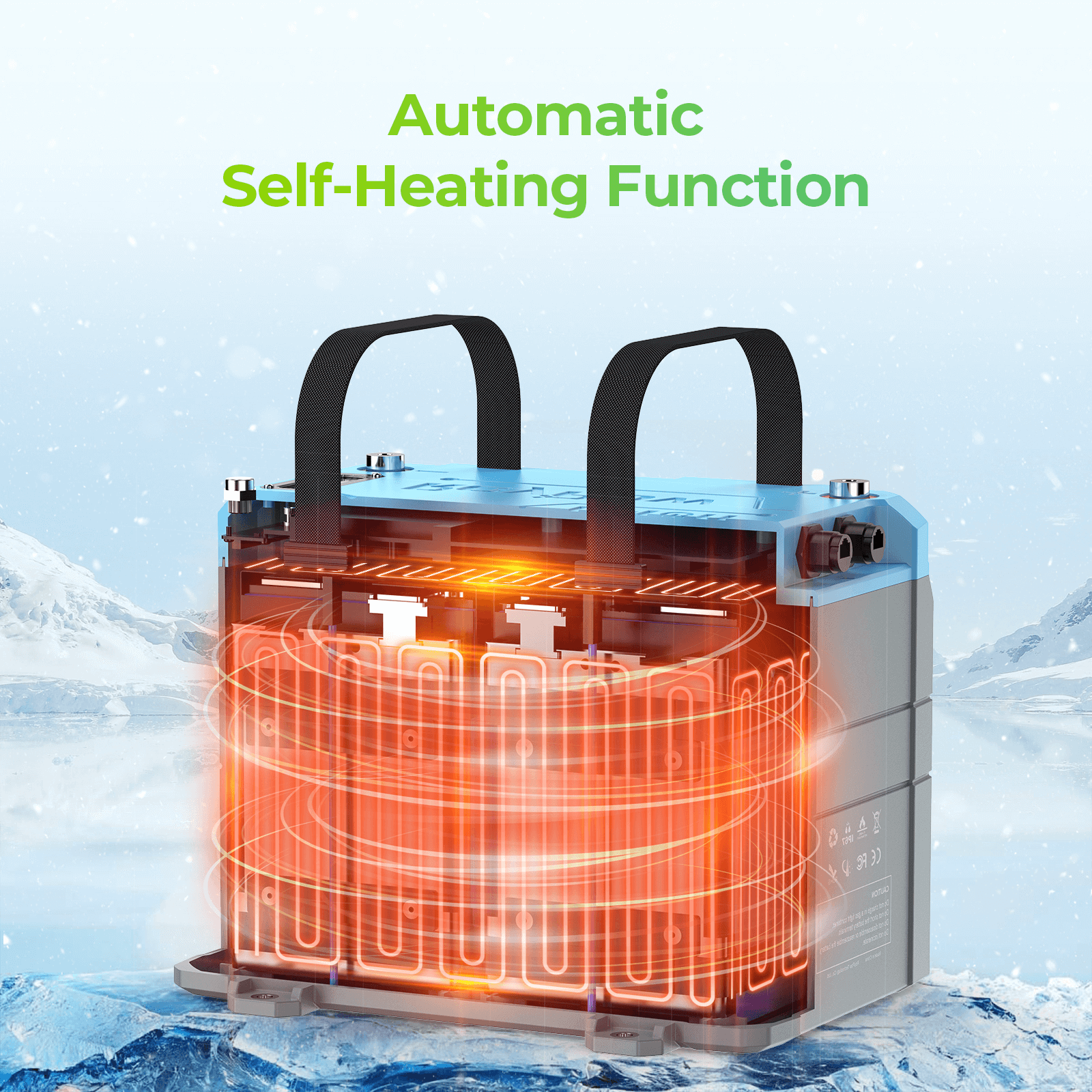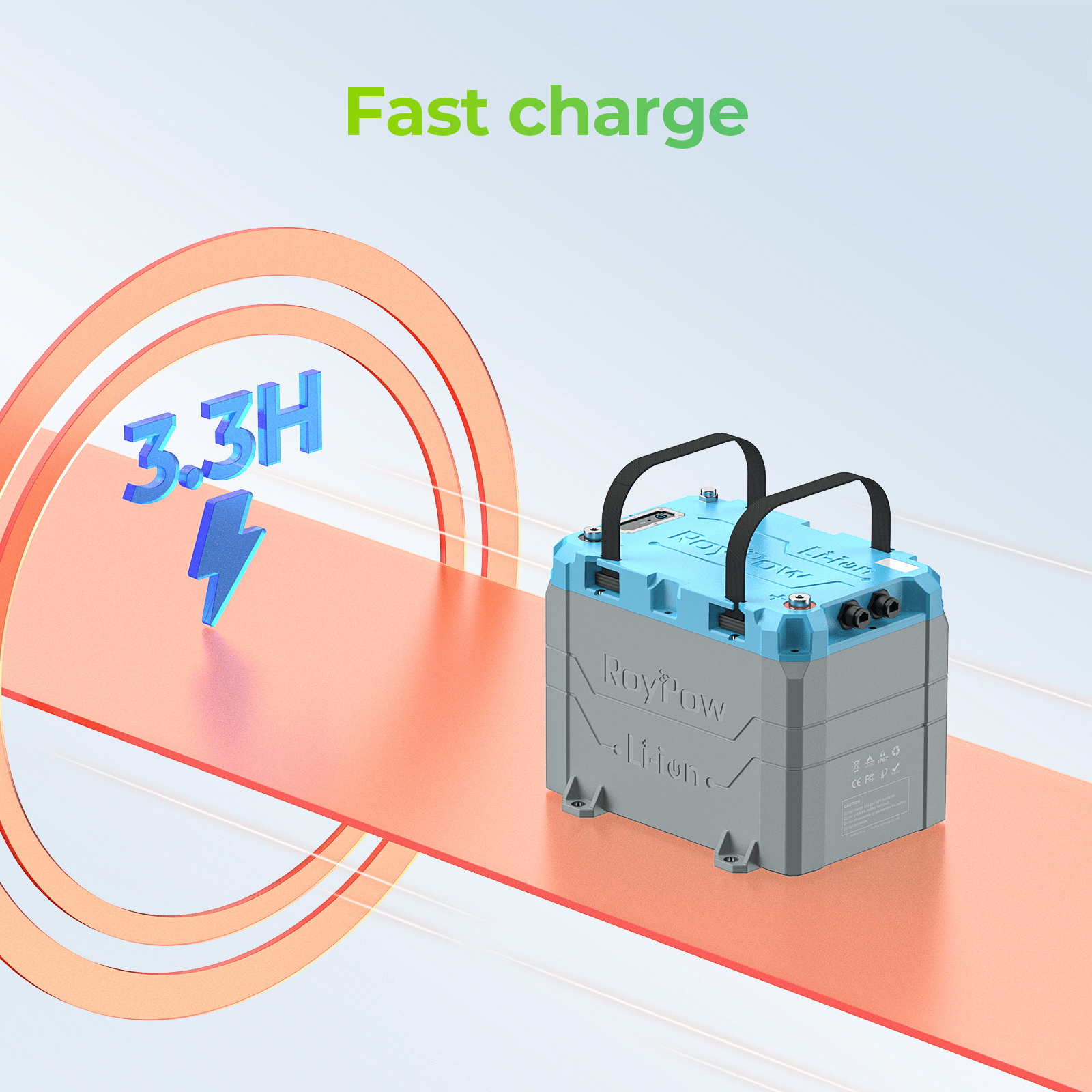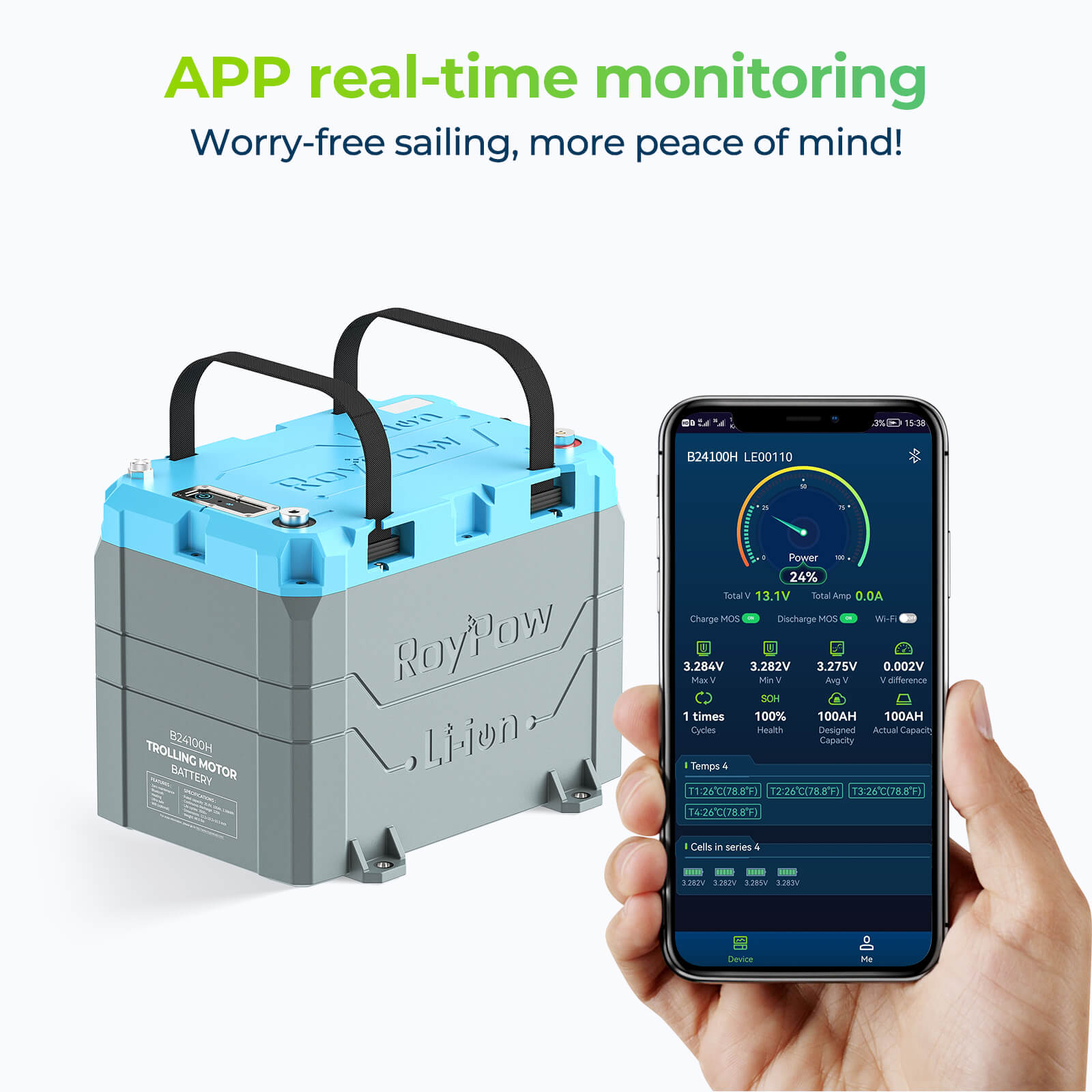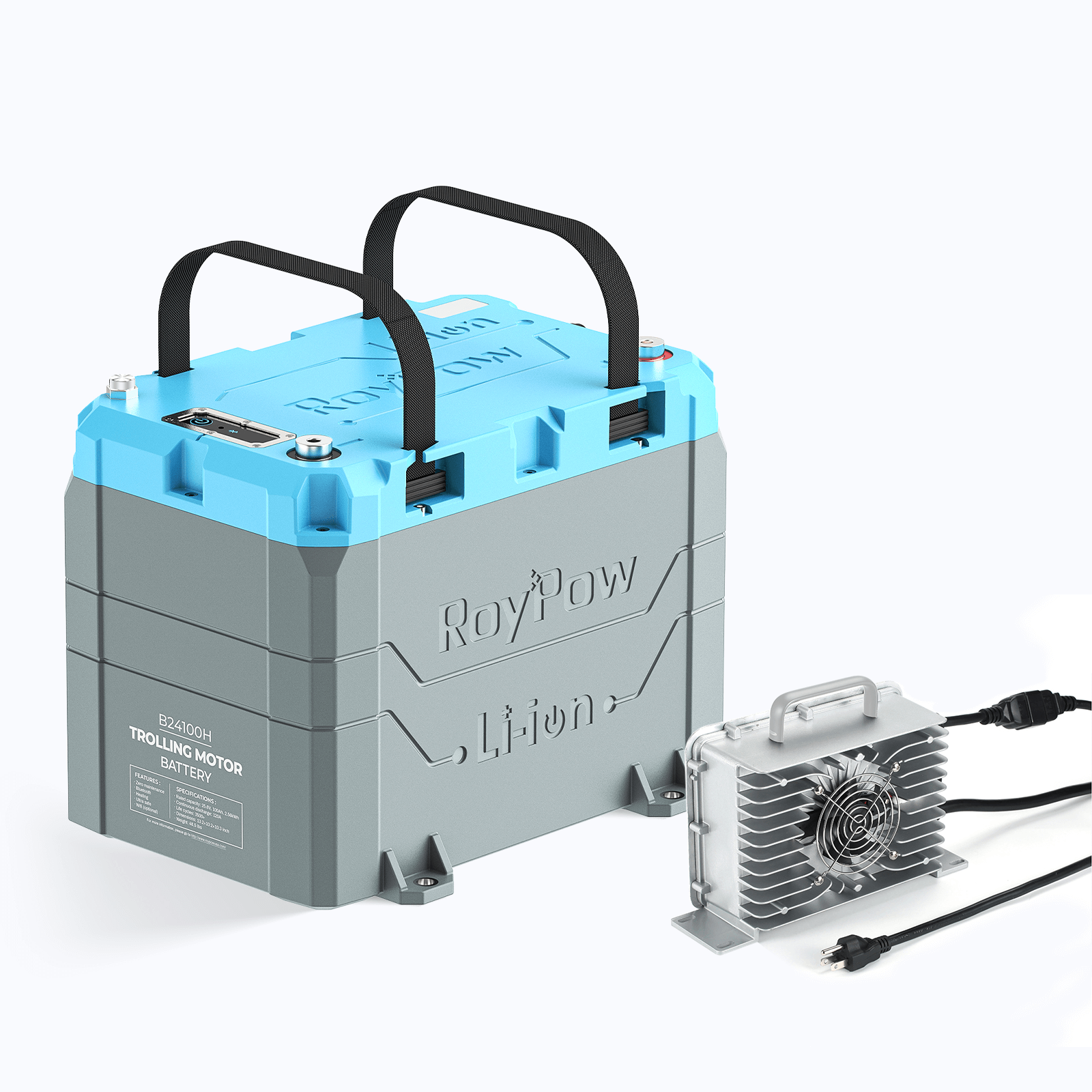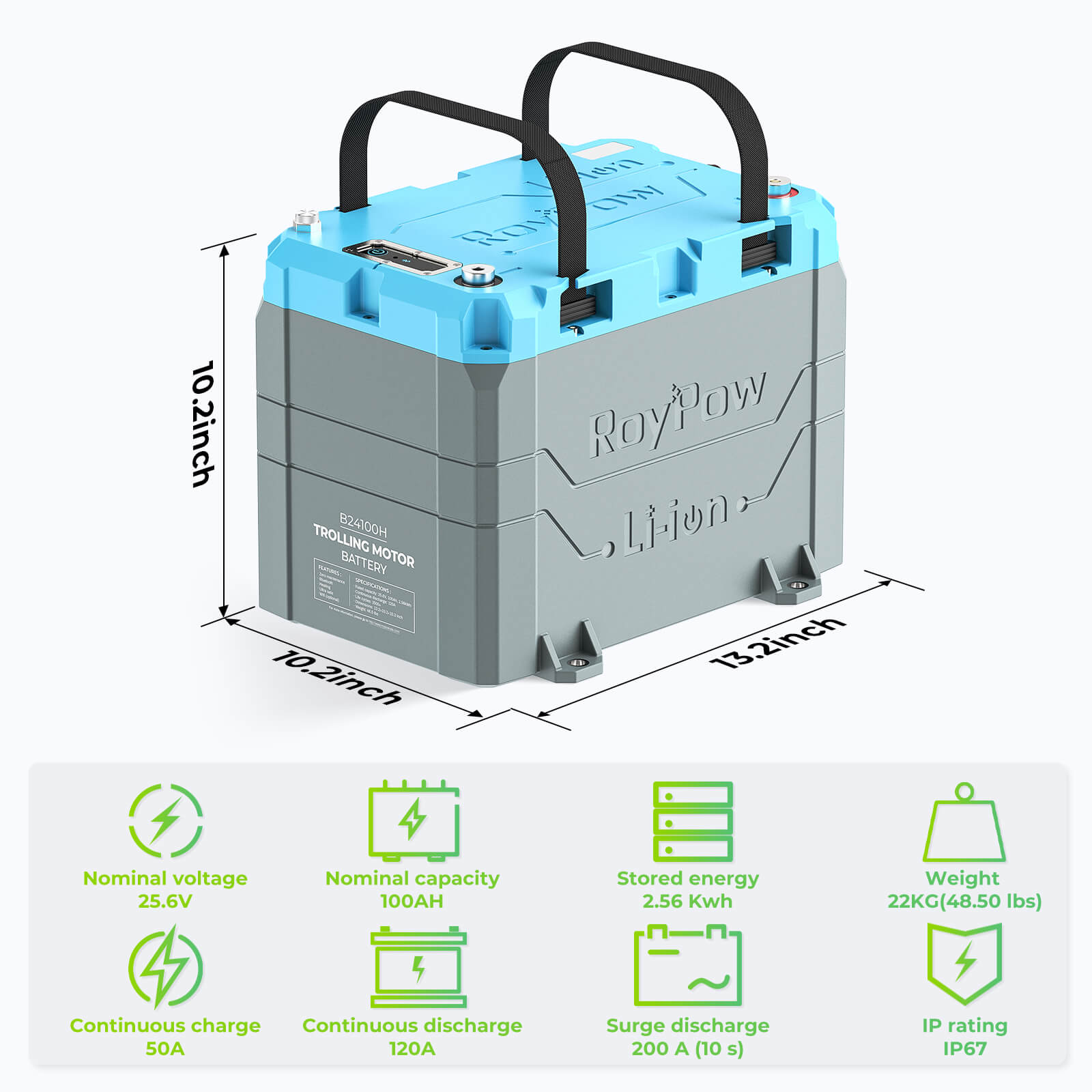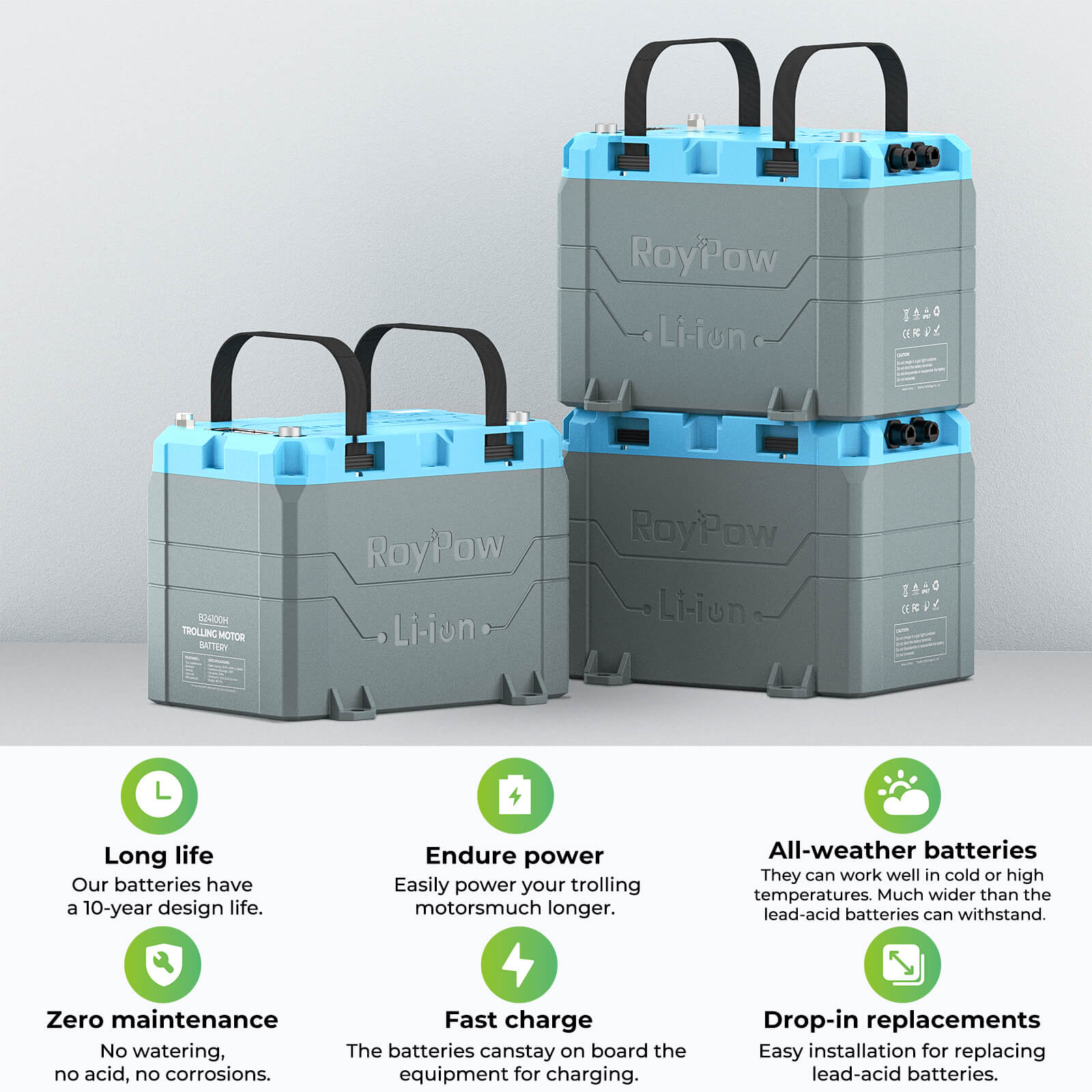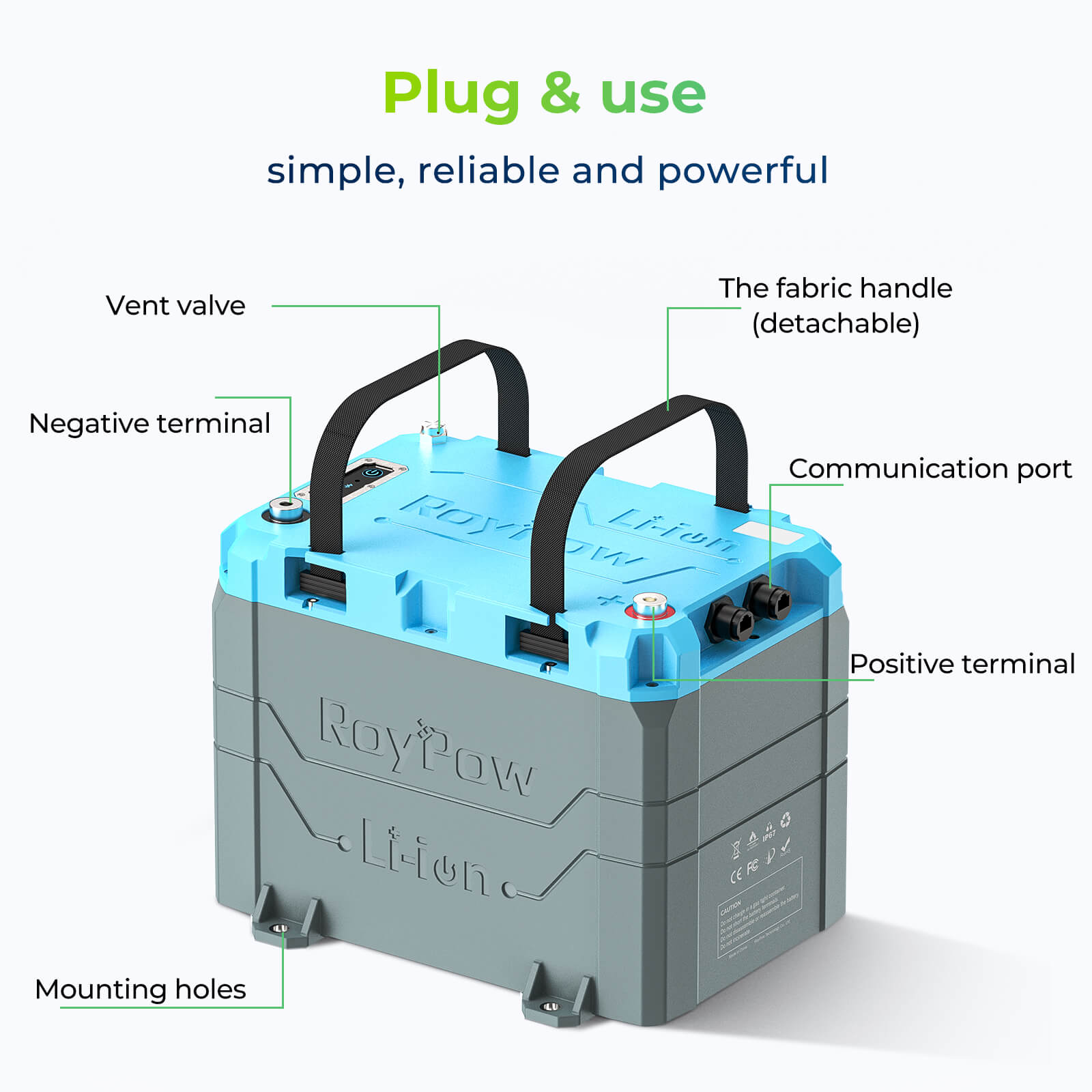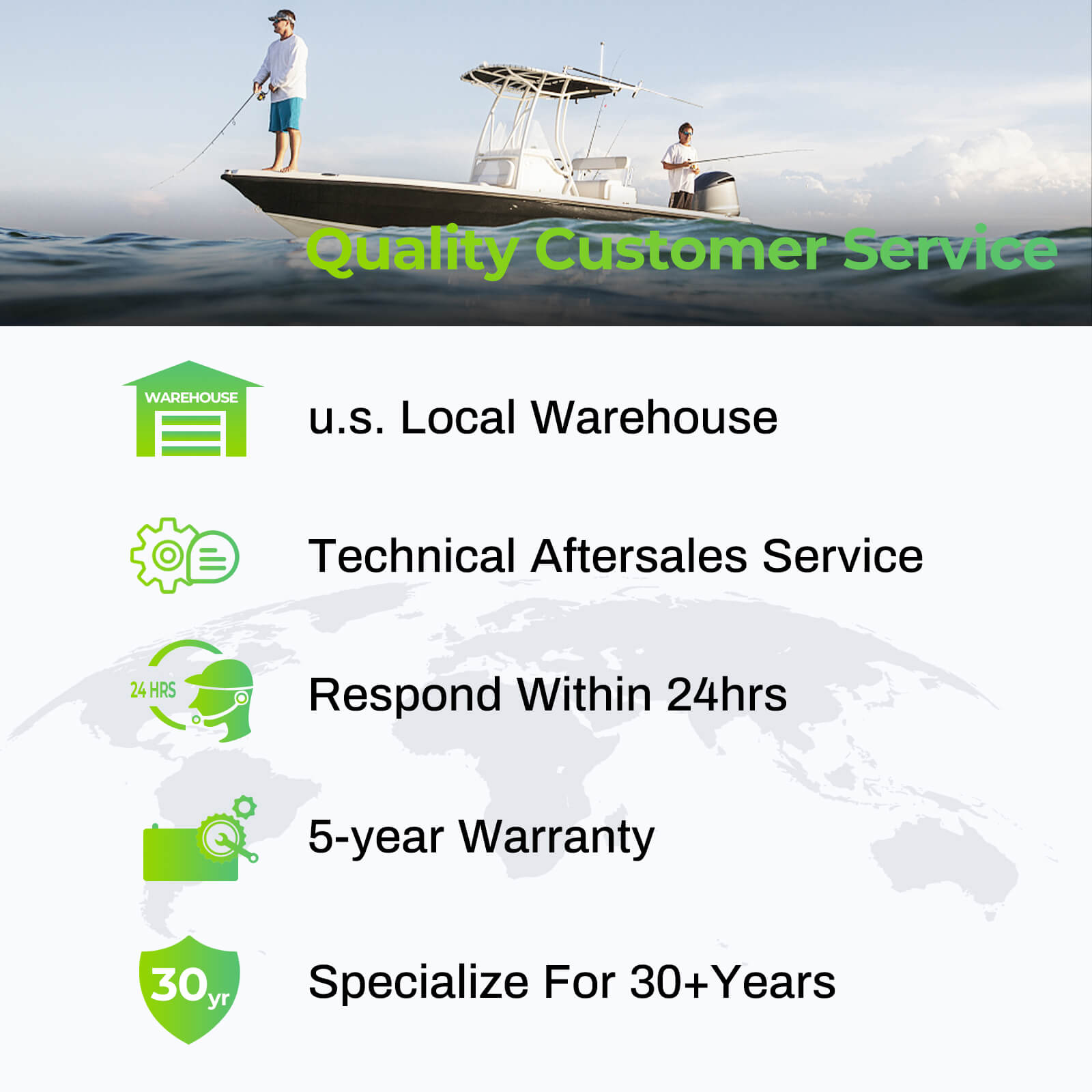 RoyPow 24V 100AH LiFePO4 battery for trolling motors
Free Shipping
CA/DE Warehouse
5-year Warranty
🔥High & ❄Low-Temp Protection
📱APP Support & Bluetooth Connection
💳Safe And Secure Checkout
🏠US Warehouse in California
🏠EU Warehouse in Germany
Model:
24V-100AH(Self-Heating)
Big 30% Discount.

Long life& Zero maintenance
Our batteries have a 10-year design life. No watering, no acid, no corrosions.
Drop-in replacements & Fast charge
Easy installation for replacing lead-acid batteries. The batteries can stay on board the
equipment for charging.
Endure power&5 years warranty
Easily power your trolling motors much longer. Valuing much for your investments.
Waterproof & corrosion protection
Resistant to some extreme conditions.
All-weather batteries
They can work well in cold or high temperatures. Much wider than the lead-acid batteries can withstand.
WiFi connection & Bluetooth
Everywhere (Optional)
RoyPow Battery APP Download Link:
Android:
https://play.google.com/store/apps/details?id=com.ls.roypow
iPhone:
https://apps.apple.com/app/id1620466818?mt=8
Specifications
B24100H
Nominal voltage
25.6V
Nominal capacity
100AH
Stored energy
2.56 Kwh
Dimension
335.8x260x260.5 mm
(13.2x10.2x10.3 inch)
Weight
22KG (48.50 lbs)
Continuous charge
50A
Continuous discharge
120A
Surge discharge
200 A (10 s)
IP rating
IP67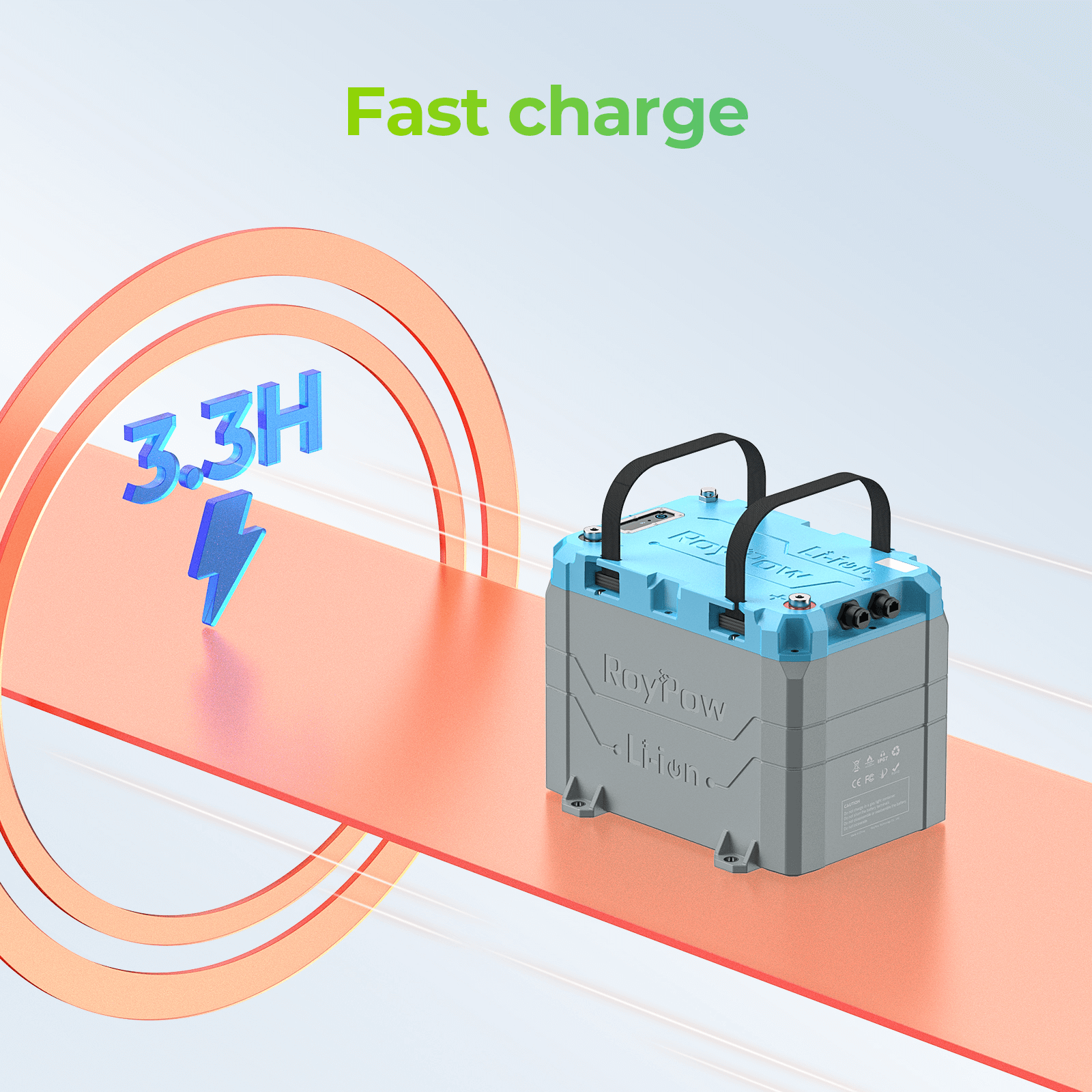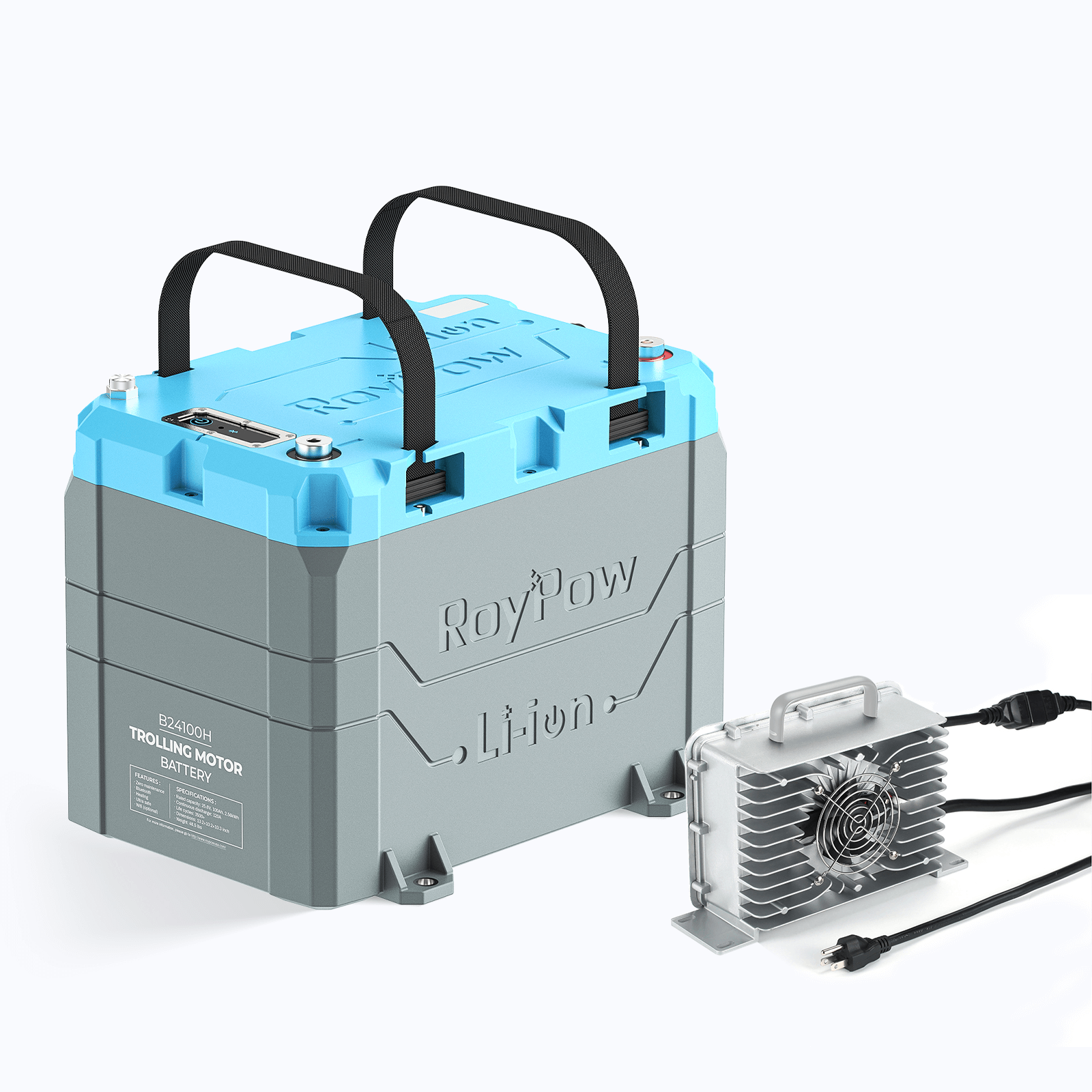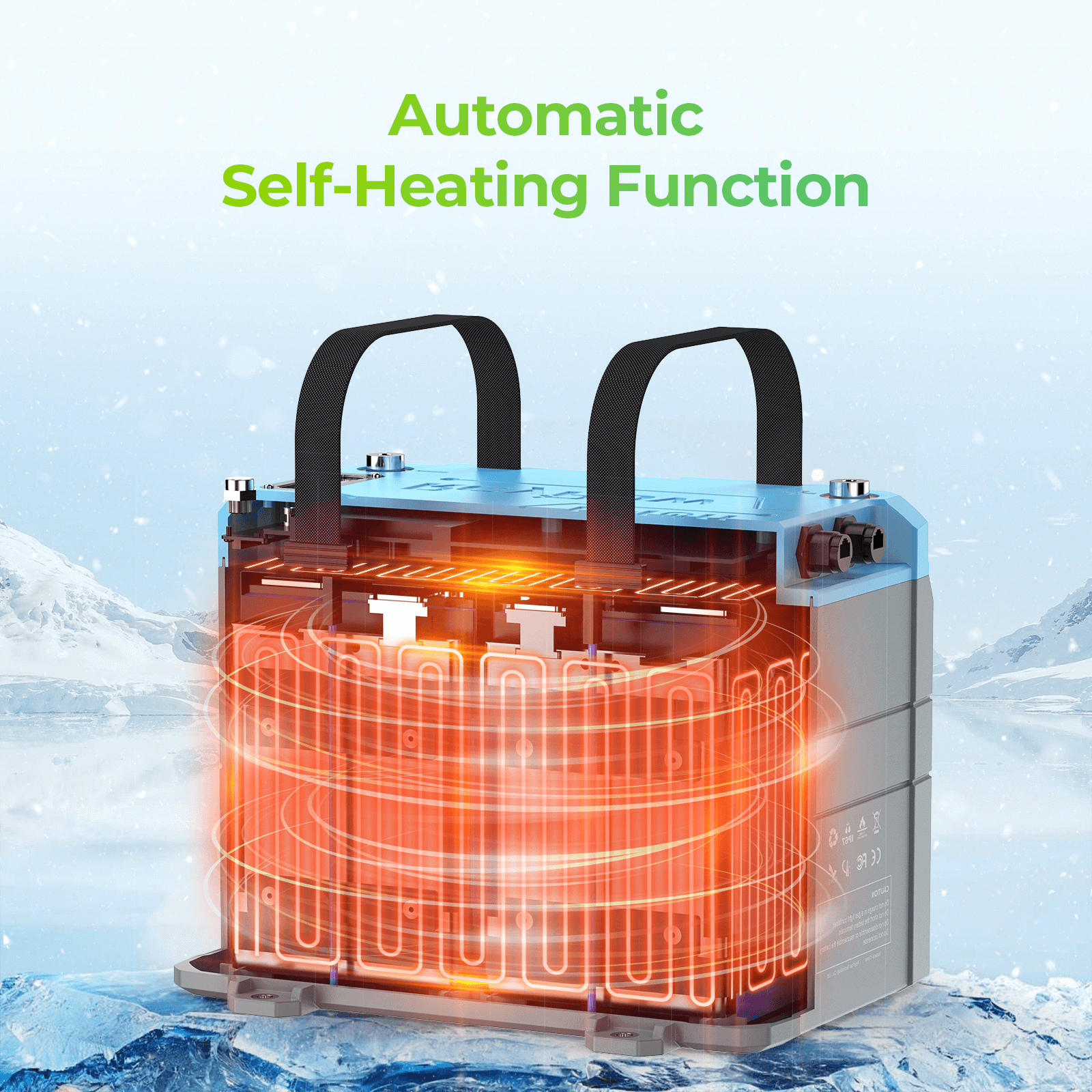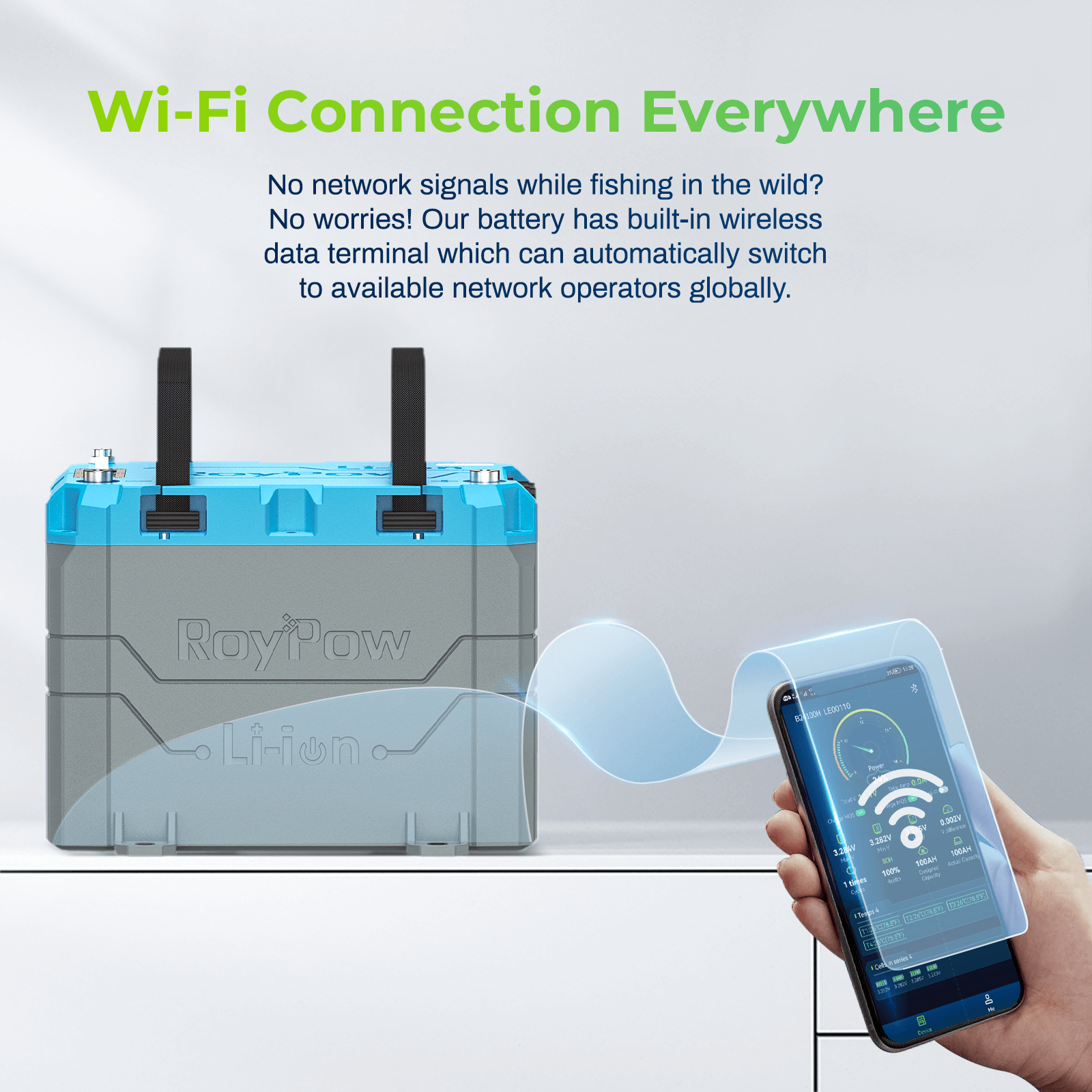 RoyPow know it wells that fast delivery is a key factor for clients to compete in the market.We have been always attaching great importances to quick delivery as much as we do in the quality control of our lithium battery.


In generally, the order will be shipped within 48 hours after the payment is successful. If there is other condition, we will notify the customer by email.
USA Shipment from CA warehouse and EU shipment from German warehouse.  The order won't be shipepd on Saturday and Sunday, and orders placed on Saturday and Sunday will be shipped on next Monday.
All our shipping for product will be a door to door service with local UPS or FedEx or DHL delivery company.

And we are providing free shipping. If you are concerned with shipping, please also check free shipping area below. For some certain places, we might not deliver or need extra shipping.RoyPow offers free shipping within the continental U.S. and EU.For USA shipment we do not ship to Hawaii, Alaska, Puerto Rico, Overseas Islands,U.S. Overseas Territories, Military Addresses, and P.O. Boxes.For EU shipment we do not ship to Overseas Islands,Military Addresses, and P.O. Boxes.
Orders with multiple items may be shipped in separate packages to speed up delivery.
Tracking is included.
Country & Regions
Shipping Method
Delivery Time
Shipping Cost
USA(

We do not ship to Hawaii, Alaska, Puerto Rico, Overseas Islands,U.S. Overseas Territories, Military Addresses, and P.O. Boxes.

)
FedEx/UPS
5-8 Business Days
Free Shipping

EU(We do not ship to Overseas Islands,Military Addresses, and P.O. Boxes.)

DHL/DPD

5-8 Business Days

Free Shipping
Tips for shipping

A) RoyPow is doing its best to make the promised time, please understand our warehouse is working only on business days, please remember to enjoy the day even there's a difference in the ETA, and by the way, we will inform you proactively if something is wrong.

B) You may please fill in the phone number. For a multi-hundred USD Battery, deserves a phone number for some urgent calls?

C) Feel worry-free to reach out to us at service@roypowcell.com